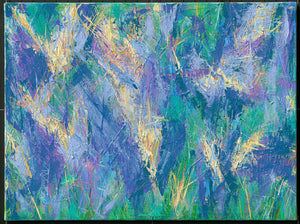 Purple Yellow Abstract Flowers is an original abstract painting with lots of texture, line and movement. Gorgeous colors include include yellow, blue, purple, green, and white multicolors. Original acrylic paint on canvas painting measuring 18" x 24" by Artist Rachael Grad.
Painted over many sessions with my fingers, traditional brushes and palette knives! Read more about my Abstract Flower Painting Series in this Art Blog post. 
This artwork ships from my art studio in Toronto, Ontario, Canada. For shipping options, please contact me.