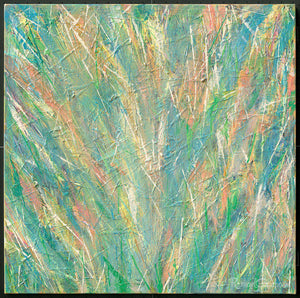 Original abstract flower painting in pastel colors by artist Rachael Grad measures 24" x 24" x .8" (60.96 cm x 60.96 cm x 2 cm). Pastel colors including soft yellows, greens, oranges, whites, pinks and baby blue. Painted with acrylic paint on canvas. 
This artwork is currently on view in Markham, Ontario. To purchase it, please contact me.
The floral artwork is part of a series of abstract flower paintings that I started on the first official day of spring in Toronto. You can read more about these new floral artworks in my recent blog post Spring Inspired Colorful Abstract Flower Paintings.