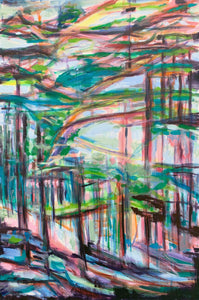 Pines at Sunset Abstracted, 2022, Acrylic and Oil on Canvas, 40" x 36" (101 x 91 x 4 cm)
This abstract painting in bright neon colours is one of my painted responses to the  The Archive of Merit: From the OSA to OCAD" Exhibition in which I participated at Ada Slaight Gallery, OCAD University in June 2022. The fast-drying acrylic paint allowed me to build up thin layers and texture, then I adjust luminous oil paint on top to bring out certain colours. Over multiple painting sessions I worked to create variety in the shapes, lines, planes and spatial depth. The bright and fun colours come from the overwhelming children's toys that fill my home.
Bright vibrant colours and abstract, gestural marks are my response to Mary Augusta Hiester Reid's Pines at Sunset. Recognized for her art during her lifetime (1854-1921), Reid was the first woman to have a solo show at the Art Gallery of Ontario but was forgotten as soon as she passed away. In this dark, intense abstracted landscape painting, patches of shapes, light and air are glimpsed through the gloomy trees. 
In Flower Diary; In Which Mary Hiester Reid Paints, Travels, Marries & Opens a Door (2021), Molly Peacock explains how when Reid entered the Pennsylvania Academy of Fine Arts at age 29, she began painting with "manly oils" and abandoned "feminine" watercolours – the preferred paint for women of the time (pages 22-23). Like Reid, I paint abstractly but with visible brush strokes, drips, and using my children's toys (including Thomas the Train toys) as paintbrushes. 
However, I am reversing and confusing the traditions with an abstract, feminist response to Reid's landscape work. In my responsive paintings artificial colours from the contemporary palette show the human-created toxins in modern Canada and widespread environmental pollution. The natural environment of pines is at risk from damaging human activities and deforestation. My works have a confused, claustrophobic feel showing my concerns about the hazards and unsafe world we are leaving for our children.  
I intentionally made the size and scale of my acrylic and oil on canvas painting approximately the same as the original (36" x 24") to understand Reid's work and process. The watercolour works are slightly smaller at 30" x 22." My abstract marks are an homage to abstract expressionism and the male dominated art movements that came after Reid. My abstract acrylic and watercolor paintings inspired by Pines at Sunset show how our world has changed since Reid's lifetime.  
The original painting is signed on the back and was painted in 2022. 
Please note that the RachaelGrad.com writing is for web purposes only and is not on the actual painting.

This original painting ships directly from my art studio in Toronto, Ontario, Canada.