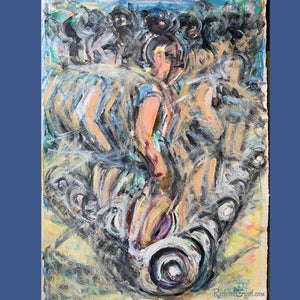 Original painting of girl riding a segway in Miami, Florida by artist Rachael Grad. Painting with acrylic paint on highest quality 22" x 30" (55.28 cm x 76.2 cm) arches paper. In this painting, I try to capture the movement of the segway rider using my travel photos, sketches and videos from Miami, Florida.
I slowly built up thin layers of paint on gessoed paper in tropical Miami colors of bright greens, blues, yellows. I've been revisiting my travel photography, drawings and paintings. Not sure when I'll be traveling again but at least I can paint from memory, sketchbooks and photographs!
The original artwork is signed on the back and was painted in July 2020. Please note that the RachaelGrad.com writing is for web purposes only and is not on the actual painting. This original painting ships directly from my art studio in Toronto, Ontario, Canada.