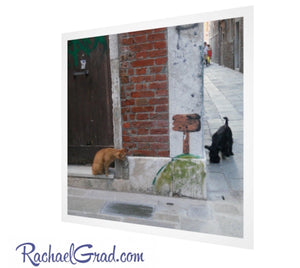 Great holiday gift for animal lovers' living rooms and home offices: cat and dog art print of an orange tabby cat spying on a dog in Venice, Italy. Available as a Fine Art Print printed on matte heavyweight cold press paper with archival inks. This funny cat and dog artwork is the perfect gift for dog and cat lovers and pet owners.
A beautiful and funny animal artwork for cat and dog lovers and anyone who loves Italy and Venice. Each artwork is made to order, designed and printed in Canada. The funny dog and cat art print arrives unframed with a 1" border perfect for framing.
Keep reading to learn more about the features and inspiration of this Venetian cat and dog travel photo.
SIZE OPTIONS FOR CAT AND DOG ART PRINTS
The following 5 square art sizes are available as Fine Art Prints:

8" x 8" 




12" x 12" 




16" x 16"




20" x 20"




24" x 24"



FUNNY ARTWORK GIFT FOR CAT AND DOG LOVERS
Beautiful and funny cat and dog art print of two happy pets in Venice, Italy is a great cat lover or dog lover gift. An orange alley cat spying around the corner at a black dog in Venice, Italy. Graphic graffiti on the red brick and old grey paving stones in this funny animal photo.

This beautiful artwork is part of the Italian photography series by artist Rachael Grad. The perfect Venice Italy Wall Art for your cat lover's home or office. Gorgeous historic Venetian building and alley is seen in the background of this Italian photograph. 
FUNNY CAT AND DOG ART PRINT FEATURES

Cat and Dog in Venice, Italy Art Print is offered as a Fine Art Print. If you'd like a different size or art print material, please contact me for additional art print options. Please note that the text "RachaelGrad.com" is only for viewing web purposes and does not appear on the actual art print that will be sent to you. Also, the art prints shown in the rooms may not be to the scale that you order.


* Paper & Ink Quality of the Art Prints *

This cat and dog artwork is perfect for the animal lover's home or office. Bright and beautiful travel photo art print with these features:

Matte finish artwork with no surface glare that is perfect for framing under glass

High quality heavy weight paper that is archival quality and long-lasting

Artwork inks are museum quality and long lastings with feature print permanence ratings of up to 200 years

Art Print is resistant to damage from UV light, humidity, atmospheric ozone

Artwork is printed and shipped from Canada

Available in 5 square art sizes




Fine Art Digital Prints 
the fine art prints are the best possible print, ink, and paper combination using the best current available printing technology
fine art print use 11 colours of ink
fine art prints have border options that make the artwork suitable for framing
Your funny cat and dog art print should be taken to a framer to be matted and put behind glass.
Colors in art prints will be slightly different from how they appear on your screen. Reproduction rights not included.


VENICE ITALY WALL ART: Inspiration behind my Italian Photography Series


I was lucky enough to visit Italy in summer. Over two summers I lived and studied art in Venice, Italy. I used to see this orange marmalade cat hanging out in an alley. Neighbors left milk, tuna and cat food for the friendly tabby cat. I have a whole series of photographs of this funny cat spying on dogs and cat lovers. This funny Italian photograph of a cat and dog looks great paired with another photograph of 2 Dogs in the Water, Giudecca Canal, Venice, Italy. 
A perfect artwork for cat, dog and travel lovers, especially anyone who loves Venice, Italy.