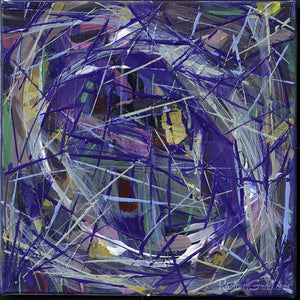 Blue Circle Abstract Marks Painting, 2019, 12" x 12", Acrylic on Canvas Painting by artist Rachael Grad. Painted in the cold Toronto spring when I was dreaming of colorful flowers and warmer weather. The bright, vivid colors in this original abstract flower painting include green, blue, red, purple, white and multicolors.
The weather in Toronto was still freezing and feeling like winter so I painted multicolor flowers and grass in bright, bold colors. Keep reading to learn more about the inspiration and painting process for Blue Circle Abstract Marks Painting. 
Please note that the "RachaelGrad.com" writing on the art is only for sharing the image here and does not appear on the original painting. 
Inspiration for Blue Circle Abstract Marks 
Painting
The Abstract Flower Marks Painting Series started on the first day of Spring, March 20, 2019. In Toronto that day it was still freezing cold but the sun was shining, and the ice and snow was melting. When I looked outside my studio window, I could feel the start of spring.
I started painting imagined flowers and grasses of what I hoped would soon appear in Toronto. These paintings are very colorful and lively with lots of movement.