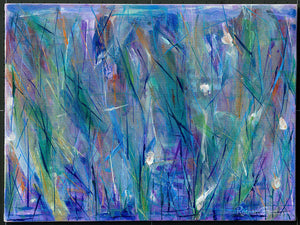 Blue Abstract Grass & Flowers is an original abstract painting with lots of texture, line and movement. Gorgeous colors in this original artwork include blue, purple, orange, green, and white multicolors. This is an original acrylic paint on canvas painting measuring 18" x 24" x .8" by Toronto Artist Rachael Grad.
This blue and purple abstract floral artwork was created over many painting sessions with washes of color, my fingers, traditional paint brushes and palette knives. 

Please note that the "Rachael Grad" writing on the art is only for web purposes and does not appear on the original painting. The original painting is signed on the back. This painting ships worldwide from my Toronto art studio.
Inspiration for Blue Abstract Grass & Flowers Painting
My Abstract Flower Marks Painting Series started on the first day of Spring, March 20, 2019. In Toronto that day it was still freezing cold but the sun was shining, and the ice and snow was melting. When I looked outside my studio window, I could feel the start of spring.

I started painting imagined flowers and grasses of what I hoped would soon appear in Toronto. These paintings are very colorful and lively with lots of movement.

This artwork is currently on view in Markham, Ontario at the Hilton Toronto/Markham Suites Conference Centre. To purchase it, please contact me.