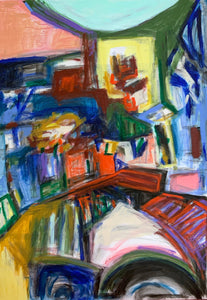 Dream Space #3, acrylic on canvas, 36" x 24", 2021
This abstract painting is my second painting based on loose, gestural sketches of an abstracted interior expanded into a reimagined scene. This project involved recreating my memories of a New York City room in which I spent many hours. Years ago, I painted and sketched this space from life on many occasions, and so have vivid, though dreamlike, recollections of its changing light and atmosphere. My intention was to further grow the image in size and abstraction. This medium sized artwork uses a multicoloured palette based on the numerous bright children's toys that fill my home.
I drew several different compositional sketches with pencil before painting. As I worked on this painting, I felt compelled to paint quickly and in loose gestural marks with huge brushes in order to tackle this big project. The painting transforms memories of a room's interior though the use of abstract marks of colour. I experimented with the remembered architectural forms, light, and feeling of that unique space. Over multiple studio sessions, I built up paint washes, bold brushstrokes, palette knife marks, and paint directly squeezed from the tube on the canvas. As I added layers and textures with paint, the image became more lively and abstracted. I worked to alter the colour saturation and vary the elements and depth of space in the paintings.
The original painting is signed on the back and was painted in 2021. 
Please note that the RachaelGrad.com writing is for web purposes only and is not on the actual painting.

This original painting ships directly from my art studio in Toronto, Ontario, Canada.
I enjoy deconstructing then reinventing my own artworks that I have previously drawn or painted from life. The recollected image and emotional impressions guide me to form new ideas on canvas. Roughly basing compositions on my own observed paintings and drawings provides freedom to alter and enhance my memories for the creation of original work. Fast-drying acrylic paint allows me to build up thin layers and texture, and make adjustments more quickly than I would be able to with oils. This enables me to produce paintings by reinventing past places and remembered feelings associated with those spaces.