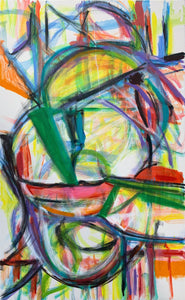 Mommy Mayhem: Bunny Landscape #5, 2022, Acrylic and Oil on Canvas, 40" x 24" (101 x 61 x 4 cm)
This abstract painting of a toy bunny rabbit in a landscape has red, yellow, purple, green, black, white, and blue multicolors with lots of white showing through the background. My abstracted bunny paintings are based on loose, gestural sketches of the same stuffed toy rabbits in different positions. I have painted and sketched these particular stuffed animals from life on many occasions so am familiar with their shapes and forms. I initially paint the forms of the toy bunny rabbits, then push the image further into abstraction. In the painting process, I work to alter the forms, light, colour saturation, and depth of space in the paintings. 
The fast-drying acrylic paint allowed me to build up thin layers and texture, then I adjust luminous oil paint on top to bring out certain colours. Over multiple painting sessions I worked to create variety in the shapes, lines, planes and spatial depth. The bright and fun colours come from the overwhelming children's toys that fill my home.
The original painting is signed on the back and was painted in 2022. 
Please note that the RachaelGrad.com writing is for web purposes only and is not on the actual painting.

This original painting ships directly from my art studio in Toronto, Ontario, Canada.