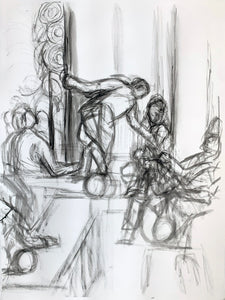 This "After the Plague Party: Circled" medium painting measures 22" x 30" and is made with ink on archival, acid-free paper. This artwork is sold unframed. Framing and/or matting is available for an additional fee.
About the After the Plague Party Painting Series 
The After the Plague Party series looks back to past artwork to find a way forward after the COVID-19 pandemic. The first painting in the series was inspired by The Marriage Feast at Cana (1562–1563) by Paolo Veronese and other monumental art that were commissioned after historic and memorable plagues. This painting is loosely based on The Allegory of Good Government (1339) by Ambrogio Lorenzetti. To form a new composition, I loosely painted from both personal and historical sources. As I paint, I change the figures, add animals, my children's toys, and imaginary creatures instead of Renaissance-clad people. The black ink on paper the brush marks are fluid and gestural.
This original painting is signed on the front and created in 2023.