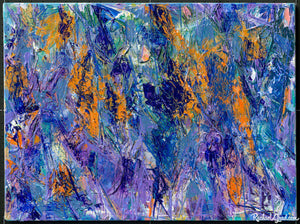 Abstract painting with lots of texture, line and movement. Gorgeous colors include blue, purple, orange and white multicolors. Original acrylic paint on canvas painting measuring 18" x 24" by Artist Rachael Grad.
Painted over many sessions with my fingers, traditional brushes and palette knives! 
This artwork is currently on view in Markham, Ontario, Canada. To purchase it, please contact me.