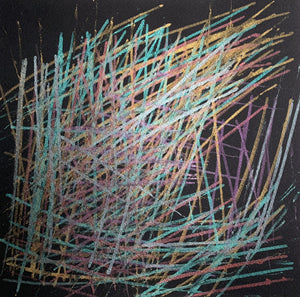 Motherhood Hit Me Like a Train, Overnighter #5, 2021, Watercolor on Paper, 10" x 10." 
The Overnighter abstract painting series is part of my Motherhood Hit Me Like a Train Series. This original artwork is painted with watercolor paint and metallics on black, heavyweight watercolor paper. Instead of paint brushes, I use toy trains to create colorful lines and marks on the black page.
Overnighter #5 has strong metallic silver, gold, turquoise, pink and multicolors on a black background. The colourful painted lines are layered and create structure and depth on the surface. 
Please note that this artwork on paper is sold and shipped unframed. 
Read more about the Inspiration and Background Story of the Abstract Painting in this Blog Post: Recently Sold Painting.